A Look at the New Ellipticals in 2021 – The Latest Releases
Although most companies are still having inventory issues and shipping times are still significantly delayed, some elliptical manufacturers have been able to weather the storm better than others, even releasing new models for 2021.
It seems that some companies were just better prepared than others, and have been able to proceed as planned with new and improved ellipticals.
Let's take a look at what's come out in the last few months and what we can expect for the rest of the year.
NordicTrack
NordicTrack seems to be focusing on streamlining their elliptical lineup. Where they once had 4 or 5 series with 3 to 4 models in each, now they have just 3 series with 2 models in each. Perhaps they realized that offering too many choices was confusing for customers…so having 2 ellipticals in each makes it much easier for people to make a decision. It could have also been a matter of certain machines not selling well.
For 2021 they introduced just one new elliptical, the NordicTrack FS14i, a FreeStride Trainer with a 14″ Smart HD touch screen, up to 32″ stride, iFit Family membership free for one year, incline and decline capability and tons of additional features.
As we mentioned, they discontinued some of their ellipticals, including the FS7i, FS9i, Commercial 12.9 and Commercial 16.9. So as of this writing you have 6 NordicTrack ellipticals to choose from in 2021, down from about a dozen or more in recent years.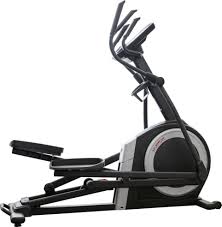 ProForm
The sister company of NordicTrack made a lot of changes for 2021 as well, with some new ellipticals, new series and getting rid of some of the older models, even recently introduced ones.
For starters, they got rid of the Endurance Series, which consisted of the 520E, 720E and 920E. As these entry level machines were quite popular, we're not sure why they decided to discontinue to them.
The outgoing Endurance Series was replaced by an all new Carbon Series, which consists of the base Carbon EX, the mid-range Carbon EL and the top-of-the-line Carbon E7 elliptical.
The three ellipticals are priced similarly to previous models, with the upper end Carbon E7 getting a Smart HD touch screen display.
Also new for 2021 is the ProForm Pro E14, which replaces the outgoing Pro 12.9 and Pro 14.9, with one of the largest touch screens ever on a ProForm elliptical. As you may have guessed, the Pro E14 has a 14″ Smart HD touch screen, along with a free year of iFit, 26 resistance levels, 20 degrees of power incline and a heavy 32 lb. flywheel for smooth operation.
If you want the best elliptical that ProForm has to offer, the Pro E14 is definitely it.
The HHIT Trainers, including the Carbon HIIT H7 and the Pro HIIT H14 are still around for 2021, and the Hybrid Trainer XT elliptical/recumbent bike is available for sale as well.
Bowflex
Bowflex is another company that changes things up a lot, and that seems to be the case for 2021 as well. They recently discontinued their traditional elliptical machines as they never really sold well.
As far as their Max Trainers, they're shaking up the lineup once again.
Last year you had the Max Trainer M3, M6, M8 and Max Total. Now the Max Trainer M6 becomes the base model, followed by a brand new M9 (replacing the M8) and the Max Total. So you have three choices there.
The new Max Trainer M9 comes with a 10″ HD touchscreen like the Max Total has, 20 resistance levels, unlimited JRNY app workouts, Bluetooth heart rate monitoring as well as streaming capability. There's really nothing you can't do on the new M9, which should make it a very popular option for home training, especially given its compact size.
Interestingly, as of this writing the popular Bowflex TreadClimbers were not available on the company website. We reached out to a representative and they were not sure if they were being discontinued or not in 2021. The TreadClimbers were huge sellers for Bowflex so I can't see how they would just not sell them anymore. Perhaps there are all new models in the works? We shall see.
Horizon
Not much going on at Horizon for the new year, although they did shuffle around the elliptical lineup a bit last year. Currently you have the GO Series, with the popular EX-59, Evolve 3 and Evolve 5.
You then have the Advanced Series with just the 7.0 AE elliptical. So 4 models to choose from at Horizon Fitness currently, but perhaps they will add a new machine or two this year.
Sole
One of the most consistent brands out there, as far as keeping the same models year in and year out, the Sole elliptical lineup remains the same for 2021. You have the E25, E35, E55, top rated E95, E95S and E98.
They do add new features from time to time like Bluetooth and touch screens, but the model names have remained the same since we started reviewing ellipticals many years ago. I guess if it "ain't broke don't fix it" applies here as Sole ellipticals have been huge sellers for years and customers seem to be very happy with their purchases.
Other Brands
Not much else going on as far as new 2021 ellipticals elsewhere. Xterra Fitness has the same 4 traditional and 2 hybrid models.
Life Fitness has the same ellipticals as last year, however they continue to have inventory problems as none of the entry and mid level ellipticals are available for sale. Only the higher end Club Series and Arc Trainers are available on the site, but at over $5,000 they're likely a tough sell, especially in this climate.
Diamondback ellipticals are the same as well, with the 1060ef and 1280ef being the only choices. They come in and out of stock quite often, so they may or may not be available by the time you read this.
There may be some additional models that come out this year, but typically by this time most of them are already out. We'll continue to keep a lookout for new 2021 ellipticals and if you find something out there that we haven't mentioned, please feel free to send it along and we'll take a look.