NordicTrack Elliptical Reviews
NordicTrack began back in 1975 as a fitness company specializing in skier machines (which are still offered for sale today, in case you're wondering!) The success of the ski machines allowed them to expand and start manufacturing other low impact machines like the elliptical. Soon after they began to get into the world of treadmills as well.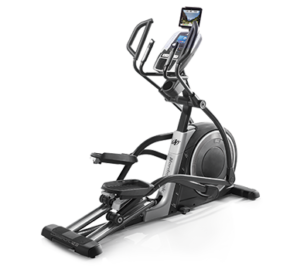 In the late 90's, ICON Health and Fitness, one of the world's largest exercise equipment manufacturers, saw an opportunity and purchased the NordicTrack brand. After the takeover by ICON, NordicTrack has thrived, and today it is one of the most successful brands on the market.
There has been a remarkable change over the past few years in the quality of the equipment that NordicTrack has to offer. They have used technology to their advantage to manufacture and produce ellipticals and treadmills that are an excellent value to the buyer.
For the money, you won't find a machine with more features and capabilities than NordicTrack provides. They have also started using more quality parts in their machines in the last 5 years, but the prices haven't skyrocketed like they have with some other brands who make that switch.

Check out the entire new lineup on sale up to 50% off at the official company website
The company often offers great deals including free shipping, financing and money back guarantees, as well as full descriptions so you can compare all of the current models.
NordicTrack Ellipticals – The Current Lineup
For 2018, there are four different series to choose from: FreeStride Trainers, Front Drive, Rear Drive and Mid-Mech (Center Drive)…
FreeStride Trainers
The FreeStride Trainers are the most popular models, consisting of the FS5i, FS7i and F9i. These unique center drive ellipticals offer up to an incredible 38″ stride, adjustable inclines, up to 38 built in workouts and iFit Coach technology. Although pricier than the other models, these give you a much more complete workout.
Front Drive
The Front Drive Series consists of the C 7.5, C 9.5, C 12.9 and Commercial 14.9. These ellipticals offer a more compact size along with generous 20″ strides, power incline and plenty of built in workouts.
Rear Drive
The Rear Drive Series consists of the SpaceSaver SE7i and SE9i. These ellipticals offer easy folding design and place you in a jogging/running position for more core activation, with incline, over 20 resistance levels and easy assembly.
Mid-Mech
This is the commercial NordicTrack elliptical series, with the ACT, ACT 7 and ACT 10 offering up to a 22″ stride in a compact, center drive design and 24 resistance levels.
For my opinion of each NordicTrack elliptical model on the market currently, just browse my reviews below. There are also some good reviews on the manufacturer's site as well.
NordicTrack Elliptical Reviews