An Older NordicTrack Elliptical Can Save You Money
Although it's always nice to have the latest model of anything, be it a computer, a car, a smart phone or an elliptical machine, you can oftentimes save a good deal of money by choosing an older model. Sure, it might not have the very latest technology, but as long as it is good quality and gives you what you are looking for, it's worth buying, especially if it will save you a few hundred dollars.
Without a doubt the most popular brand of ellipticals is NordicTrack…they sell more exercise equipment than any other company in the world. Along with a nice selection of brand new machines, there are plenty from the past couple of years that you can buy at a significant discount.
Here we take a look as some of the older, popular NordicTrack ellipticals that you should consider if you don't quite have the budget for a new model.
NordicTrack E 7.0 Z Elliptical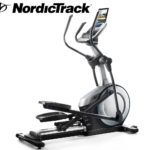 The E 7.0Z is a few years old but has remained quite popular since its introduction. It comes with 20 built in workouts, incline up to 20 degrees, a 20 inch stride and 20 resistance levels. Hey we're seeing a theme here!
It also comes with a 5″ backlit screen showing all of the relevant workout metrics, Intermix sound system, heart rate monitoring and iFit compatibility.
The current sale price is about $654. Comparing that to the most similar new model, the C 7.5, and you are saving about $150 with the NordicTrack E 7.0 Z elliptical trainer.
Sure, it doesn't have all of the features of the C 7.5, but it's a great deal for the price.
You can check this one out on sale here.
NordicTrack Elite 10.9
This is another popular elliptical from a few years ago, part of the Elite Series, which no longer exists. The Elite 10.9 is a mid-range machine, a step up from the E 7.0 Z, with touch screen and internet connection, 32 workouts built in, 20 degrees of power incline, 20″ stride and iFit.
At $899 on sale, it's $100 less than the comparable C 9.5 model. You can check it out on sale at Sears.
NordicTrack E 9.0 Z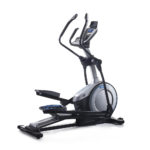 Another entry level model from a few years back, the Elite 9.0 Z has 26 built in workouts, 22 resistance levels, 20″ power adjustable stride, iPod and iFit compatibility.
At just under $800, again at Sears, you can save about $100 off a similar new NordicTrack elliptical.
Other Older NordicTrack Models
NordicTrack is always updating and changing models, so you can often find sales on soon-to-be-discontinued ellipticals on the NordicTrack site, as well as some of their older models available at Amazon, Sears, Walmart and other online retailers.
So if you want to save a little money, consider some of the older models. Again, as long as they have the features that you want, and provide a solid workout, they are certainly worth considering.