Precor Elliptical Reviews – An Industry Leader
You can't talk about elliptical machines without mentioning Precor. Ever since the company was started in 1980, they have revolutionized the exercise equipment market with high quality, technologically advanced and ergonomically designed workout machines.
Precor introduced the first rowing machine in 1980, the first treadmill in 1990 and in 1995, the very first elliptical machine, the Precor Elliptical Fitness Crosstrainer (EFX). They still use the EFX designation to this day.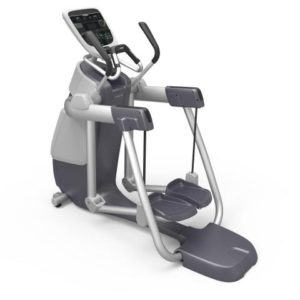 You've probably used a Precor machine if you've ever worked out at a gym, or at a hotel or spa. These machines are everywhere, and for good reason. They are extremely high quality…very well engineered and constructed, designed and built with different users in mind, loaded with great features and capabilities. Their ellipticals are no exception. And the great thing is that the residential versions are just as good as the commercial versions, so you're truly getting a gym-quality machine for home use.
If there's anything negative to be said about Precor ellipticals, and this is not really a negative but more of a drawback, is that the machines are very expensive. The cheapest home elliptical they make is right around $2,000 (the EFX 221) and they work their way up to over $5000 for the EFX 447. So these are by no means entry level machines and are out of reach for many of us. Are they worth the price? Yes. Do you need to spend $2,000 and up to get a really good elliptical? No, you don't.
Check out the entire lineup at special discount prices at the official company Amazon store
Let's take a closer look…
Precor Ellipticals – Current Lineup
Our latest Precor elliptical reviews revealed 12 different models for sale. As we mentioned, you have the entry-level EFX 221. You then have the 222, 225, and the top of the line EFX 245 elliptical trainer. Those are all of the Energy Series models.
You then have the Precision series, consisting of the EFX 423, 427 (same as 423 but with moving handlebars), 443 and the top-end Precor EFX 447. These models offer even more resistance and incline levels than the Energy series, closely mimicking the workouts you get at the gym.
There are also three Experience Series models: the newer EFX 731, 761, the 833, 835 and 863. These are more expensive commercial models, and not necessary for home use. But if money is no object, they are worth a look.
All of the models share some features such as their patented CrossRamp Technology (an adjustable ramp that changes the elliptical path, allowing you to target different lower body muscles), magnetic resistance for a smoother, quieter workout, water bottle/remote control holder, LCD interface, tablet holder and heart rate monitoring.
They also all share the same warranty (except for parts and wear which differ) of Lifetime Frame and Welds, 1 year labor and 3 years console.
As you move up the ladder the machines offer different features. You'll get more resistance levels, more incline capability, more workout programs, user IDS and more refined touches here and there. It's basically a matter of choosing which Precor elliptical fits you budget and has the features that you are looking for.
For those with a limitless budget the company also a line of Adaptive Motion Trainers, or AMTs. These machines start at around $8,000 and allow you to adjust the stride all the way up to 36 inches. You have the AMT 733, 763, 835, 865 and top of the line AMT 885 model with a touch screen console.
Are they worth buying?
Precor elliptical reviews are pretty much unanimous among both experts are users. They have won many awards over the years from the Treadmill Doctor and a Best Buy award from a couple of consumer magazines. Users also give very high marks to these machines. A look at Amazon, where they feature a number of different Precor models, mostly older ones, all show at least 4 stars out of 5.
We here at the Guru have been using Precor ellipticals and treadmills, as well as strength equipment, for a number of years and we really don't have any complaints. They are simply reliable, heavy-duty, fun to use machines that seem to be built just for you…and that's what the company strives for.
We'll be reviewing all of the newest Precor elliptical trainers so check back with us often for specs, ratings, reviews and our recommendations for the individual models.
Precor Elliptical Reviews