What's an Elliptical Bike and Are They Worth Buying?
A reader recently wrote to us and asked: What exactly is an elliptical bike and is this something worth buying or am I better off with a traditional cardio machine? This is a very good question and we decided it was a good idea to write an article about it on our site, as these hybrids are becoming more and more popular.
Now, an elliptical bike can mean one of two things, and people often get confused between the two. It can either be an outdoor bike or an indoor bike, two entirely different animals. Let's take a closer look…
The Outdoor Elliptical Bike
Often called an elliptical bicycle, this machine is, as the name suggests, half elliptical and half bicycle. Instead of sitting down and pedaling as you normally would, you are actually standing up the whole time as if you are on an indoor elliptical trainer. That motion is what propels you. You can climb up hills, go up to 20 or so mph, it has brakes, gears, etc.
This is a relatively new concept, and one of the biggest players in the game currently is ElliptiGo. There is also a company called StreetStrider that advertises on TV that offers a three wheel elliptical bicycle, 3G Spyder that calls its product a stepper and Zike, which calls its product a scooter bike.
All of these elliptical bike varieties offer a low impact, efficient workout, allowing you to take your training outdoors. Although the motions on each one are different, you are always standing up and moving your legs and/or your arms to propel the machine down the street, up a hill, etc.
Some people swear by these new hybrid bicycles, others find them a bit awkward. It's up to you to decide if you like the way they feel. They can be very expensive though, especially the ElliptiGO and StreetStider bikes, so it's a good idea to try to test drive first if possible before you buy. Which brings us to the second type…
The Indoor Elliptical Bike
This type has been around for a bit longer than the outdoor version, and is simply a recumbent exercise bike that functions like an elliptical. You can sit down and use it like a bike, or stand up and use it like an elliptical.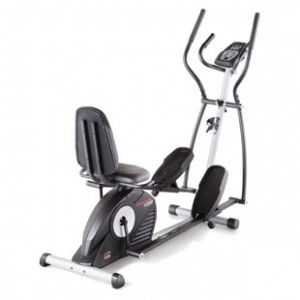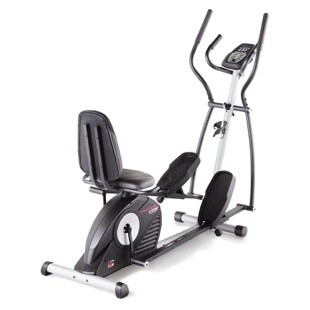 One of the most popular indoor elliptical bikes is the ProForm Hybrid Trainer, which gives you a ton of additional functionality on top of the ability to use two machines in one.
There is also the Schwinn Airdyne 520 which is a recumbent elliptical.
These machines tend to be much cheaper than outdoor elliptical bikes, around $500 to $700, although there are some high-end models from HCI Fitness, so they are more appealing to those with a lower budget.
You're getting an elliptical and a bike together in one, for roughly the price of a traditional elliptical trainer.
What's the Bottom Line?
Whether you choose an outdoor elliptical bike or one of the indoor varieties, you're getting a very low impact workout that can certainly help you reach your fitness goals.
The outdoor ones tend to be more expensive and more elaborate, especially the ones from ElliptiGo and StreetStrider, so if you have the budget for it and want a real outdoor adventure, those are the way to go.
The indoor ones simply combine the elliptical and recumbent bike workouts into one, giving you a little more variety and muscle targeting capability. The ProForm Hybrid Trainer is a good, inexpensive choice in this category, but take a look at other brands as well.
Either way, it looks like the elliptical bike is here to stay, as these hybrids are really catching on. Take a look at them today and decide if they are right for you.