How Does The Bowflex Max Trainer Compare To A Typical Elliptical Machine?
We were asked recently for a Bowflex Max Trainer review as many of our readers were intrigued by this relatively new exercise machine from the makers of the Tread Climber, Select Tech dumbbells and of course, the eponymous home gyms.
How does it compare to an elliptical? Is it better? Is it worse? Is it worth the $999+ price tag? Please Guru, break it down for us!
OK OK, you don't have to twist my arm. Here is my take on the Max Trainer, which is currently available in three models: the M3, the more jazzed up M5 and the newest addition to the lineup, the M7.

So basically these new machines are half stepper/climber and half elliptical trainer. There is a trend now towards hybrid machines, and many different companies are offering some sort of multi use machines, like Proform with their elliptical hybrid trainers and Cybex with their Arc Trainers.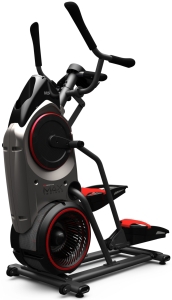 (SEPTEMBER SALES ARE ON: Bowflex is currently offering $499 in savings including free shipping on Max Trainer models.)
Check out the special limited time sale here for the best savings of the year!
It sort of brings you the best of both worlds, or in the case of the Arc Trainer, three worlds: a skier, a stepper and an elliptical. The problem is that although you can target more muscles on these hybrid machines, more often than not they are of less quality than the single-use machines. But that makes sense because the prices are usually comparable, so you can't expect to get an awesome three-in-one elliptical hybrid for the same price as a traditional elliptical trainer.
That said, as time goes on and the technology improves, there may be a day when these hybrid machines are just as good as the originals.
Getting back to the Bowflex Max Trainer review, let me start off by saying this machine looks really cool. They don't have them in my gym but a buddy of mine ordered one for his family so naturally I went over to his house and made a bee line for his basement to check this thing out.
(In 2018 the company introduced two brand new LateralX trainers with side to side motion: the Bowflex LX3 and Bowflex LX5. Check them out today.)
It has a very slick, modern look to it, unlike many of the other residential and commercial trainers that look a bit intimidating and, for lack of a better word, machine-like. This thing is silver and black with fire red accents…kind of looks like a jet ski or motorcycle or something like that. My friend has the Max Trainer M5, which is the mid-level model, but the M3 and M7 look just as cool.
Let me start off with what I liked about the machine, and then I'll delve into what I didn't like so much. I can say there were many more positives than negatives overall.
Bowflex Max Trainer Review – The Pros
I already told you how cool these machines look, so that's the first plus. They are visually stunning. They also don't take up a lot of room at all which is great. My friend has a half-basement, with about 400 or so square feet, so a small footprint was key for him, and for most people.
The entry-level M3, mid-level M5 and top of the line new M7 are only 46″ long, which is significantly shorter than most ellipticals, and even shorter than most compact models. It's only 25″ wide. It is tall however at 63″, so with a low ceiling it might not be ideal.
How's the workout? I decided to go with the recommended 14 minute interval workout, which is basically a period of high intensity followed by a cool down and then back to high intensity until 14 minutes are done. I used the pivoting upper arms for the fast part and switched to the lower grip for the "rest" phase. After you enter your information the machine starts off with the "Active" segment which is the high intensity, and moves through a total of 16 (8 high, 8 low) segments until you finish your workout. All the while they suggest a target burn rate range that you are supposed to keep within.
I have to say the workout was very good. It did take me a while to get used to the elliptical/climber motion as I am more of a straight elliptical guy, but once I got into the groove it was quite intense. I always like interval training so the idea of a 14 minute targeted workout incorporating intervals appeals to me. There are 9 other programs to choose from in case you want to work out longer, including a manual mode.
As we mentioned there are three Max Trainer models to choose from, the M3, M5 and M7. The mid-level M5 that we worked out on has more workout programs, resistance levels and other added features that the M3 doesn't have. But the M3 is perfectly good as well if your budget is a little lower. The Bowflex Max Trainer M7 is the top of the line model, with even more workouts and resistance levels than the M5, plus enhanced design and comfort features. It also has the ability to learn and set fitness goals for you, something the M3 and M5 do not.
What else did I like? They have a dial so you can see exactly how hard you are training. Watching the dial move up is pretty cool. It has nice wide, comfortable pedals and the machine can sync with their free app on your mobile device to check your workout stats and track your progress. All of the Max Trainers come with a wireless chest strap so you can measure your heart rate more accurately…that's always a nice touch that is much appreciated.
Bowflex Max Trainer Review – The Cons
Although overall I enjoyed the experience, I'll point out some negatives that I came across as well as some that other users might notice. For starters, it's not the easiest workout so if you are just getting started, this might not be the best choice for you, although you can use Manual Mode and build your way up. The resistance levels, especially during the interval training, are pretty intense. So I would say the Bowflex Max Trainer is probably best suited for someone who is in decent shape and uses some kind of cardio equipment regularly.
It is a little noisy and wobbly at times, but that's mainly due to its small footprint and the way it is designed. It also does feel like more of a stepper/climber than an elliptical so I can see how that might be a concern for some people. The interface on the Max Trainer, although it is cool to watch the dial, is rather basic, especially compared to what you find on comparably priced elliptical machines. In that regard I think they could make that more interesting, perhaps with a few more readouts/features/capabilities, etc.
Another negative is the warranty which is only 3 years on the M7, 2 years on the Max Trainer M5 and 1 year on the Max Trainer M3. This is an issue on with their popular TreadClimbers as well. Comparable machines typically have lifetime frame and at least 2 years on parts and labor.
Some small complaints…the water bottle holder is kind of in a weird spot and hard to access, and when you use a tablet it covers the readout so you can't see what you're doing. Not a total deal breaker though and not the case on the M7.
What's the bottom line on the Max Trainers?
Bowflex claims that you can burn 2.5 X as many calories with the Max Trainer than your typical elliptical…up to 600 calories + in half an hour. It's purportedly better on the joints and provides a more complete workout in less time. Is all of that true? It might be, but what it comes down to is whether or not you enjoy using the machine.
Some people absolutely love it and the fact that they can get a pretty solid workout in just 14 minutes (now 7 minutes on the M7). Other people find the motion a bit awkward, especially very tall people. Still others find that it is a bit too intense, and they have trouble lasting even a few minutes on it.
Your best bet is to try and test one of these things out if you can. They don't have them in most gyms…they are more of a residential exercise machine…so you'll have to try it out as I did in someone else's house.
If that's not an option, you can always pick up the Bowflex Max Trainer on sale now and return it if you're not happy.
Bowflex typically offers free shipping and a six week, 100% satisfaction return policy. So you really have nothing to lose, except excess weight that is. 🙂