Horizon Elliptical Reviews – The Latest Models on Sale
It's come time again for our Horizon elliptical reviews as there have been so many new models introduced and older ones no longer manufactured by the company. So we thought why not take a brand new look at Horizon and see how their elliptical trainers have changed since our initial review several years ago.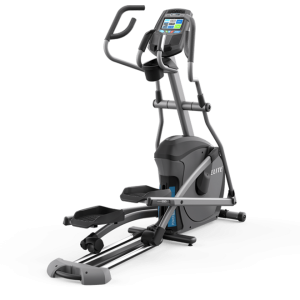 The Horizon brand is part of Johnson Health Tech, one of the world's leading exercise equipment manufacturers. The company started in the mid-70's, and has built a great reputation for making well-built, durable machines.
Other brands found under the Johnson Health umbrella are Matrix and Vision, both well-regarded companies.
The Horizon Fitness badge can be found on treadmills, exercise bikes and rowing machines in addition to their wide selection of elliptical trainers. They have become a great choice for those looking for quality without the hefty price tag.
Check out the entire new lineup on sale up to 40% off at the official company store
Horizon Ellipticals – Current Lineup
The company is currently offer three different series types, depending on your budget and needs. There is the Quick Start Series, currently featuring only the EX-59, which is their entry level machine with basic features that are ideal for the beginner.
You then have the Evolve Series, including the Evolve 3 and Evolve 5, which are a step up in terms of price and features and have a rear-folding frame.
At the top of the line you have the Elite series, with the Elite 7 and Elite 9, which are more feature-rich, including some additional program and entertainment capabilities.
Horizon ellipticals are often featured along with their sister ellipticals under the Vision Fitness name. Vision is the higher end of the two. The priciest model in the Horizon line is the Elite 9 at around $1,599 on sale. The priciest model in the Vision series is the S70 commercial elliptical, at $4,399 or so on sale.
All of the ellipticals are very well made, so it's really a matter of figuring out how much you are looking to spend and what features you want/need to have included. As with all ellipticals, the lower priced ones tend to have shorter stride lengths, so if you are taller you're definitely going to need one of the more expensive models.
If you already have a model in mind, you can read more specific Horizon elliptical reviews on the model pages. But here is an overview of what you will find on all of the machines:
1. The SixStar Frame (TM) – Horizon developed six features to ensure a natural, comfortable workout. To that end, all machines have overlapping pedal placement to reduce hip/back stress, straight body posture, easy to access pedals, optimal spacing for handles, a flatter elliptical motion to naturally mimic your run/walk, and smooth motion with a large drive to pulley ration.
2. Oversized foot pedals
3. At least 10 workout programs
4. MP3-compatible speakers and audio-in jacks
5. Water bottle holder, reading rack and accessories tray
Those 5 features will be found on all of the Horizon elliptical models, and as you move up in the lineup you can expect to find even more capabilities, programs and workouts.
Below you will find full reviews of all of the current models.
Horizon Elliptical Reviews