ProForm Elliptical Reviews
ProForm is the #2 top selling brand for iFit Health & Fitness, the world's leading equipment manufacturer with brands like Weslo, HealthRider, FreeMotion and Weider.
ProForm is second only to NordicTrack, another iFit brand that you've likely heard about. Though they are manufactured in the same place with mostly the same parts, they are not exact replicas of each other.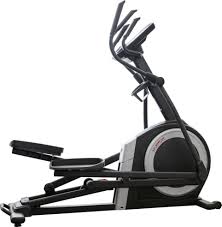 One common misconception is that ProForm only sells machines that are on the cheap end of the spectrum with matching quality, and they don't have any high-end ellipticals. In fact, they have quite a few high-end models with exceptional quality. So keep that in mind while you are shopping for elliptical machines.
ProForm's warranties are what used to steer consumers away from their machines. Many people found the warranty on most of their machines inferior to those of other brands.
However, ProForm has improved the quality in their machines over the past few years which, at the same time, improved the warranties on those machines. You will typically find that most of their ellipticals have at least a 10 year frame warranty, with 2-3 years parts, and 1 year labor…better than most others in the price range.
One thing we noticed while conducting our ProForm elliptical reviews is that there aren't as many choices as there used to be. Last we checked, they are currently offering only 5 different ellipticals to choose from, which can make choosing one a bit easier than it used to be. ProForm also makes bikes, treadmills, hybrid trainers and rowers.

Check out the entire new lineup on sale up to 45% on the official company site
ProForm is always offering special sales and discounts throughout the year, especially around the holidays.
ProForm Ellipticals – The Current Lineup
Some people like a lot of choices; others prefer to select from just a few. But the good news is there is probably one that is right for you.
There are currently a few different series to choose from: Carbon, HIIT Trainers and Hybrid Trainer. The high end Pro Series was recently discontinued. Within each series there are a few model choices.
The newest series in the ProForm elliptical lineup is the Carbon Series. First introduced in late 2020, it currently consists of the Carbon EL, Carbon EX, Carbon E7 and Carbon E10. What's interesting about the E10 is that it is FREE, meaning all you have to do is join iFit for 3 years, and the elliptical itself is free of charge.
*Note that as of early 2023 it looks like the E7 and EX might have been discontinued.
You have the ProForm Hybrid series, with a Trainer model, a Trainer XT and a Trainer Pro, although it looks like only the mid-level Trainer XT remains. These are quite different, as they actually combine an elliptical machine with a recumbent bike, which is pretty cool and unique. You can use the elliptical and then easily transition to the bike, which is quite appealing to a lot of people. The only downside here is you're not going to get all of the features you want since the price is quite low. The elliptical stride on all ProForm Hybrid trainers, even the Pro, is only 14″ which is about as low as it gets. It will be very choppy for taller users.
Lastly you have the new ProForm HIIT Trainers, which are becoming quite popular. These are hybrid elliptical/stepper machines designed to give you quick results in a shorter period of time. You have a base Carbon HIIT H10 and a more advanced Pro HITT H14 model.
Recently Discontinued Models
The ProForm Pro series consists of 3 models: the new base Pro 9.9, the SMART Pro 12.9 and the SMART Pro 16.9 elliptical, all recently redesigned. These front drive ellipticals offer heavier flywheels, which give you more of a gym-level workout. The heavier the flywheel, the smoother and typically quieter the motion. The Pro series also offers touchscreens, iFit and other advanced features.
As of 2022 there's a new Pro E14 elliptical that may be replacing the other Pro Series ellipticals. It has a 14″ Smart HD touch screen, the largest ever on a ProForm elliptical.We'll keep an eye on that one and let you know.
The ProForm Endurance series consisted of the 520E, the 720E and the newer SMART 920E. These are front drive machines with a smaller footprint than you'll find on other machines.
Next you have the ProForm Smart Strider series (CSE), which consists of the 495 CSE, 695 CSE and 895 CSE. (Note they may be phasing out this series in 2020…only the 895 CSE is presently on the company site)
Unlike the Endurance and Pro ellipticals, these are rear-drive machines, which make it more like you are running or jogging. These models come with an 18″ stride, so they aren't a great choice for taller users who need to stretch out more.
All of the newer SMART ellipticals come with a free one-year iFit subscription. With the others you will need to pay for a membership. iFit gives you access to unlimited personal trainer workouts, tracking and sharing capabilities, Google maps of any location worldwide that you choose, and a host of other motivational tools. Even if you do have to pay for it, it's worth the monthly or yearly membership fee.
ProForm ellipticals are not a bad choice by any means. They are very well priced, no matter what model you choose. There are a lot of good features, especially on the more expensive ones, and the space saving design is ideal for most home users.
I've reviewed all of the models over the last few years as well as the new ones that have recently come out. If you don't see the exact model you are looking for, just contact me. You can get a good idea of what to expect from the reviews below.
ProForm Elliptical Reviews – All Models