What are the best elliptical brands on the market?
Many visitors ask us to recommend the best elliptical brands that they should be narrowing their choices down to. Just a few years ago this was a much easier question to answer as there were really only a handful of manufacturers to choose from. However with the rising popularity of elliptical machines for use in the home, there are now a lot of different companies to choose from.
Elliptical training machines are quickly becoming the preferred method of workout among exercise enthusiasts. That's because these machines can mimic the natural feel of running without putting the same kind of stress on the body. Elliptical workouts can help you do everything from cardio training to burning calories and they have a number of features to help personalize your workout.
The best choice for you really depends on what you are looking for. There are some really good entry level machines that won't cost you an arm and a leg, then there are gym-quality ellipticals with all of the bells and whistles you could ever ask for? Is one better than another? That's debatable.

But there are some brands that are known for making very good elliptical trainers, and your best bet is to start your search there to see if you can find what you are looking for.
The Most Popular Elliptical Brands
Without a doubt the biggest player in the industry is ICON Health & Fitness, the largest manufacturer of fitness equipment in the world. Under the ICON umbrella are NordicTrack and ProForm, both of which sell more elliptical machines than any other company.
There are a lot of different models to choose from, at all different price levels. There are front drive machines, rear drive machines, and the newer mid drive technology as well.
Also under the ICON brand is Weider, HealthRider, FreeMotion, Image, Weslo, Reebok and Gold's Gym. These companies also offer ellipticals and other equipment, but besides FreeMotion, they tend to be less expensive/not as high quality as NordicTrack and ProForm.
So the ICON brands are a very good starting point when looking for an elliptical for your home.
Other Good Low to Mid-Range Elliptical Brands
Besides the two most popular low to mid range brands, NordicTrack and Proform, there are other good choices in this category. You have Sole Fitness, a company that makes very high quality machines, a few of which have won a number of industry awards. You have Xterra and LifeSpan, two fairly new players offering some very good ellipticals. You also have Horizon, a well established brand with high quality machines.
As far as prices for the most popular ellipticals above and the other mid-range brands, you're talking about $799 for one of their base models to about $2,000 for the top of the line model, and plenty of choices in between.
The Higher End Elliptical Brands
Although you don't need to spend a lot of money to get a great elliptical, if you have the budget for it you can find additional features that you likely will not find on the less expensive models. You're getting more of a gym quality workout, with sturdier construction, higher max weight limits, longer warranties, more capabilities, larger/brighter interfaces and other bonuses.
These machines are usually around $2000 or more for a residential model and $4000 or more for a commercial model (which you certainly do not need for home use).
Among the top names in this category are Precor, Matrix, Life Fitness, Octane, Vision and TRUE.
Precor pretty much invented the elliptical and has a patent on the rear drive design (although others have leased the technology). As mentioned above FreeMotion is the only high end brand under ICON Fitness. Octane only makes ellipticals and they make them well. Life Fitness, Vision Fitness, Matrix and TRUE all make great exercise equipment.
Recognizing the rising popularity of elliptical machines for home use many of these companies now offer residential versions of their popular commercial trainers, giving the home user the ability to mimic the gym workout at home. Again, you don't need to spend $2000 or more on an elliptical, but if you can and you do, you certainly won't be disappointed.
The Budget Elliptical Brands
We always recommend that you should spend as much as you can afford when you're buying an elliptical machine. This is something that you will have for years and years so you want something that's going to last, and something that you'll be excited to use every day or at least a few days a week.
But we realize that even one of the base models mentioned above at $799 might be out of reach for you, so here are some brands that offer decent budget models that you can choose from.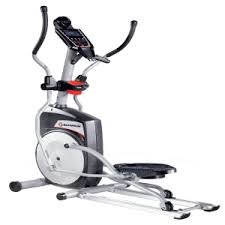 Schwinn, which is part of the Nautilus brand along with Bowflex and Universal, offers a few ellipticals ranging from $599 to $899, and you may be able to find discounts on all of them. They're certainly not the best machines, but they are getting a little better in quality and are quite popular.
Weslo, one of the ICON brands mentioned above, offers some very low priced ellipticals, under $200 last we checked. They are very basic, bare boned ellipticals but if you just want something to work out on, they are not so bad.
Stamina offers a very cheap option called the In-Motion elliptical trainer that starts at around $89. Again, not going to be the best workout of your life but it will get the job done. Keep in mind the cheapest model does not have handlebars, so you actually sit or balance to use it. Other models do have handles that you can hold onto and cost a little bit more.
Other possibilities include Exerpeutic, Gold's Gym and the Body Rider Dual Trainer. All popular, perhaps because they are so inexpensive, but with decent reviews to go with them.
So what's the bottom line on elliptical brands?
The best elliptical brands really depend on what you are looking for and what your budget is. If you want a good quality machine with some great features, capabilities and programs then choose from the low to mid range brands we mention above.
If you have more money to spend and want an elliptical with all of the bells and whistles that is just like the one you use at the gym, then choose one of the higher end elliptical brands.
If you just want a very basic workout and/or you have $200-$600 to spend, take a look at one of the budget elliptical brands we discuss in the previous section.
We hope this helps you narrow down the choices. If you don't see a brand you were considering or would like us to review it, please feel free to contact us. Check back often for updates to this article.