What is a hybrid trainer and should you get one?
You might notice that many companies are now offering hybrid exercise machines, which are basically any trainers that offer more than one workout type. In the case of hybrid ellipticals, this could mean the machine also features a stepper motion, a treadmill like component, a recumbent bike or any combination of the three. But are they worth it?
The answer really depends on what you are looking for. Many people love the workout they get from the typical elliptical, especially with all of the new features and technologies they offer, and that's all they really need to achieve their fitness goals.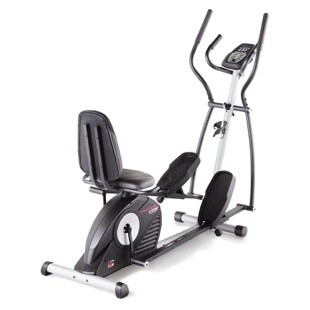 But if you want the ability to run, step or bike without having to buy an additional machine, then a hybrid might be a good choice for you. Once thing to keep in mind however is that many of them tend to be lesser quality than their comparably priced ellipticals. Meaning if you see an elliptical for $500 and a hybrid for $500, chances are the elliptical will be of much greater quality.
Let's take a look at some of the current offerings to give you an idea of what is out there…
Proform makes two versions of the Hybrid Trainer, which is half elliptical and half bike. They are both well-priced at around $350 for the base model and $599 for the pro version. For those who want the option to sit and pedal, it could be a good choice. But keep in mind you're getting a lesser quality elliptical experience to accommodate the bike portion, with a small 15″ stride and a super light flywheel.
NordicTrack makes the FreeStride Trainers (FS7i and FS9i), which is an elliptical machine as well as a stepper and a treadmill. They feature a large 38″ adjustable stride which allows you to walk, climb and run in every possible pattern. These hybrid machines are much higher quality than the ProForm versions, but they come with a much higher price tag…just under $3000 for the FS9i. But if you want all three machines in one, it's a nice option.
You then have the popular Bowflex Max Trainer which is half elliptical, half stepper as well as the Cybex Arc Trainer, which is a stepper, an elliptical, and a cross-country skier. Both of these are on the expensive side as well like the FreeStride Trainers.
On the budget end you have the Body Rider Dual Trainer and similar models, which are typically under $300. These hybrids are also half elliptical and half recumbent like the ProForm models.
So what's the bottom line with these hybrid trainers?
As with anything else, you really get what you pay for. We've found that the sub $500 hybrid ellipticals aren't the greatest machines, and tend to be shaky and uncomfortable with limited workout options. For a basic workout for a beginner, they will do the job, but if you are looking for a more serious hybrid we suggest looking at the NordicTrack FreeStriders, the Bowflex Max Trainer or the Cybex Arc Trainer. They're certainly more expensive, but they offer a much more natural, smooth elliptical motion (as well as stepping, running or skiing) and more gym-like quality.
Hybrid ellipticals are not for everyone, but if you want to add an extra pice of equipment without actually buying it, these new cardio trainers might be the right choice for you.