A Recumbent Elliptical is an Attractive Option That Minimizes Impact
You may have come across a recumbent elliptical at your local gym, as these hybrid machines are becoming quite popular these days. Combining a traditional elliptical with a recumbent exercise bike, these new cardio trainers area ideal for those who prefer to sit to minimize impact on the lower body, or just because it's a more comfortable position. Whatever the reason, you now have more choice than ever before.
Let's take a closer look at what these hybrid cardio machines are all about…
Who are the recumbent ellipticals aimed at?
Although anyone can use and benefit from one of these cardio machines, they are geared towards individuals who prefer to sit to take some pressure off or just to be more comfortable while they are working out.
Without the need to support your full body weight you can spend more time focusing on your workout. Oftentimes people find their workouts even more productive when they are in a seated position rather than standing up the whole time.
Entry Level Recumbent Ellipticals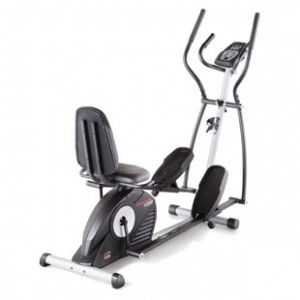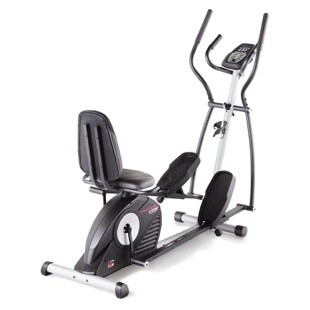 At the lower end of the price spectrum you have combination machines that you can use as a recumbent bike OR a stand up elliptical, not combined. So you're not doing both motions at the same time; rather you have the ability to do each one independently. We discuss this type of recumbent exercise bike here, where you'll find information about outdoor ellipticals too if that interests you.
One of the best examples of this is the ProForm Hybrid Trainer, a very affordable machine that gives you a recumbent and elliptical in one.
You also have the BodyPower 3 in 1 trainer, which allows you to use the machine as an elliptical, a recumbent as well as an upright, but for the latter you are basically leaning forward so its not a true upright bike experience. That one gets decent reviews but you're better off with one of the Hybrid Trainers in our opinion.
Check out the most popular entry-level seated ellipticals on sale now at Amazon
Higher End Recumbent Ellipticals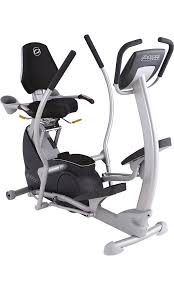 If you are looking for a true recumbent elliptical, then you're talking about a cardio machine that is exactly like a stand-up elliptical, except you are sitting down. The difference is the ability to work the upper arms at the same time, as opposed to one or the other on the entry level machines. So here you are doing exactly what you do on a traditional elliptical…the only thing that is different is that you are seated instead of standing.
Some of the best examples of this type of cardio trainer are the Octane Recumbents, consisting of the Octane Fitness XR4, XR6, XR650 and XR6000. These are top of the line, rock-solid seated ellipticals like the ones you might find at your health club.
What separates Octane from other companies is that all they make is ellipticals…they don't make treadmills, bikes and rowing machines like almost all of the other higher-end manufacturers, like Life Fitness, Matrix and Precor. With that laser focus, they make some of the best recumbent ellipticals you will find today.
Check out the most popular higher end seated ellipticals on sale now at Amazon
All of the Octane Recumbents have the unique PowerStroke technology, converging and stationary handlebars, at least 15 seat height adjustment and 5 tilt positions, transport wheels, heart rate monitoring and at least 6 built in workouts and special workout boosters for muscle targeting.
So if you are in the market for a recumbent elliptical trainer, Octane is definitely the place to start. If you want another option, you can take a look at the HCI Fitness PhysioStep, which is another solid higher end option.
The Bottom Line on Seated Ellipticals
The recumbent elliptical is a great option for those who prefer to be in a more comfortable, seated position while they work out. You're still getting all of the benefits of an elliptical workout: low impact, full body muscle targeting, calorie burn, cardio strengthening, etc. you're just sitting instead of standing.
So by all means if this is something that interests you, go for it. If you can, try one out in your local gym to see how it feels before you buy. Otherwise, just read the many reviews from current users to see if this is something that you'll enjoy using…we think you will, as it's always more fun to sit than stand!