The Star Trac Elite Elliptical Review — Just plain perfect
The Treadmill Sensei has been reviewing a lot of consumer grade equipment…mainly because he knows the majority of people out there buying are looking for more information on equipment that can be purchased for a more realistic budget. And there are sooooo many treadmills and ellipticals available for under $1000 that it gets really confusing for people looking to buy. However, what I truly love is getting a chance to play with the high end, super expensive commercial units. Truthfully, the majority of the work we do here at the DOJO is on commercial equipment from gyms, fitness centers, apartment complexes and the like.
One of those high end ellipticals we have been installing a lot in gyms lately is the Star Trac Elite Elliptical. If Matrix is the Lexus of the fitness industry then this Star Trac Elite is easily the BMW (which then makes Landice the Lincoln Town Car and Noramco the Hummer!). These units are as close to perfection as you can get in an elliptical.
Let's start with a little bit about Star Trac itself. The company has been producing treadmills since the early 1970s (1974 or 1975 from what I remember) and have always focused on producing top end equipment. Their company goals have always seemed to be: produce the best product, make it low maintenance, heavy duty and spiffy to look at. And, 99.9999% of the time they succeed. This is one of the reasons Star Trac is now the #1 name in high end commercial fitness equipment. If you've worked out at a good gym then you've worked out on Star Trac ellitpicals, treadmills or spinner bikes (Spin bikes? Indoor cycling bikes? whatever the thing are called this days).
That brings us to Star Trac's latest offering, the Star Trac Elite Elliptical. The unit was first introduced in late 2005 and replaced Star Trac's very popular (and excellent) Natural Runner line. Based on the name alone, you might think Star Trac is just blowing its own horn and being arrogant. Well, the Star Trac Elite is literally one of the best ellipticals out — and, in the Treadmill Sensei's humble opinion, one of the finest ellipticals produced to date.
The first thing you'll notice when stepping up to the Star Trac Elite is that it is a rear mounting elliptical (also known as a front drive). This may seem a bit unusual for those of you used to working on a Precor 546 or Life Fitness Rear Drive, but there is good reason for Star Trac's design choice: ease of mounting. With the drive wheel up front, the Star Trac Elite is very easy to get on and start using…no more do you have to awkwardly step over the unit to get on to the pedals. Just walk up from behind and step up.
The second thing you'll notice is how incredibly sturdy the Star Trac Elite Elliptical is. This comes from two things: first, the front wheel drive adds quite a bit to the stability of the unit. Second, it weights 450 pounds! Once this unit is in place, it wil not move unless you want it to. This is one of the few elliptical machines you can do a full on, near-running workout and feel comfortable it won't tip over or fall apart.
The third thing you'll see is the crosstraining arms on the Star Trac Elite. Anyone who has worked out on an elliptical realizes there is some benefit from the crosstraining arms, but that most of the "workout" from them is generated by your feet. Your arms are really just hanging on as the arms move back and forth by themselves. Not so on the Star Trac Elite Elliptical! It has 3 very different modes for you to workout with.
First is a resistence generating pulling workout — which gives you resistence when pulling and none on the reverse motion. With a click of a button you change the resistance and you've got a pushing workout which is opposite from the pulling. Third, for those of you who don't want to workout with the crosstraining bars, another quick click of the button and the Star Trac Elite Elliptical folds the bars out of your way and locks them down. The alternating workout selections are a great breakthru in elliptical tech.
Now, the downside of these units is they are large and come full assembled. If you've got a tight space, narrow stairs or thin doorways, they are a bitch to get through! This comes from someone who has to set up Star Trac Elite ellipticals every week! And, let an installer remove the handles to get the unit through a tight squeeze at your own risk. They handles are not meant to be removed and some machines never perform quite right once they've been taken off and reattached.
The console on the Star Track Elite Elliptical is well thought out and designed for ease of use. One of the things I hate about some treadmills and ellipticals is having to let go of one of the handles and have to switch through screens to view the information I want to see (heart rate, time, distance, etc). Luckily, the Star Trac Elite puts all of the information for you in individual, easy to view screens. Check it out below: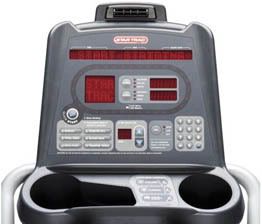 The Star Trac Elite Elliptical Console is easy to use
Another great feature are the pedals which are slightly closer together than some older model ellipticals and feel much more natural. No more will your feel start to fall asleep during longer workouts like happens with a number of other ellipticals. Comfort is king with the Star Trac Elite Elliptical.
The rest of the features are just as impressive: 20 levels of magnetic resistence, pulse grip and wireless heart rate monitoring, heart rate control programs, 8 programs total and connection to Palm OS handhelds to keep records of your workout data. The Star Trac Elite is a fully loaded elliptical.
For being a paragon of performance perfection, the Treadmill Sensei gives the Star Trac Elite Elliptical 5 out of 5 Golden Buddahs!
5 gold buddahs out of 5 for the Star Trac Elite Elliptical!


Get more information on the latest Star Trac Ellipticals and find the lowest price online.
Star Trac Elite Elliptical Specifications
Dual Action: Yes
Resistance Levels: 20
Heart Rate Monitoring: Yes, Pulse Grip and Polar Telemetry
Heart Rate Control: Yes
Programs: 8
Monitor Readouts: Time, strides per minute, heart rate, course profile, resistance level, 1/4 mile motivational track display, calories, calories/hour, watts, distance, speed, and METs.
Max Weight Capacity: 350 lbs.
Grade: Full Commercial
Stride: 21″
Unit Size: 70″L x 27″W x 67″H
Unit Weight: 450 lbs.
Price: $4495