What's the Best Elliptical Under $500?
Looking for the best elliptical under $500 for your home gym? While there are many choices out there, you'll find that most of them miss the mark. Why? Because it's very hard to manufacture a good piece of exercise equipment for just a few hundred dollars. But rest assured, there are some good options out there for you.
It is important to note that these are not going to be like the ones you find the health club. The home version of those elliptical machines cost several thousand dollars. Rather, these are very basic machines that are built for casual use. However, they will give you a good workout, help you burn calories and build muscle…and in the end, that's all that really matters.

Best Ellipticals Under 500 – What You'll Find
As we mentioned, the sub $500 elliptical trainers typically offer the bare minimum as far as features and capabilities. Even bumping up to the $500-$1000 range will give you a lot more to work with. Still, here's what you can expect from the best elliptical under $500…
1. Adjustable Resistance Levels
One thing that separates the good discount trainers from the bad is the ability to adjust resistance levels to challenge yourself a bit. You can start off at the lowest levels and build your way up as you get more comfortable on the machine. Look for at least 8 levels of resistance, and 16 or more levels on some of the better ellipticals.
2. Built in Workout Programs
Another tell tale sign is the presence of built in workout programs. Look for at least 10 of these programs, including hills, intervals, heart rate, distance, time and more. This gives you the ability to change up your workout from one day to the next, keeping you motivated and on track.
3. Compact Design
You'll find that the best elliptical under $500 will very likely be compact as well, so you'll definitely be able to fit it comfortably in your home gym. Many of the more expensive ellipticals, especially the rear drive gym-quality ones, are quite large, therefore taking up a lot of space that most homeowners just don't have.
4. Movable Upper Arms
Some of the cheaper elliptical trainers have stationary grips only, so you really can't get an upper body workout. The better ones however have moveable arms that work in sync to the lower body elliptical motion, giving you a more complete full body workout, incorporating the arms and the legs in tandem.
5. Heart Rate Monitoring
Although you won't usually find wireless telemetry, you will find grip based heart rate monitoring which will give you an idea of what your numbers are throughout your workout. This will help keep you in your ideal target zone, which makes your workouts much more effective.
Our Expert's Top Choices Under $500
By now I'm sure you're saying to yourself…show us the best under $500 ellipticals already! Well, here you go. These are our expert's top choices in the price category…
ProForm Hybrid Trainer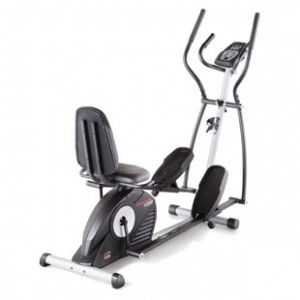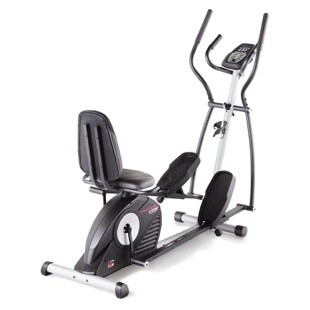 The ProForm Hybrid Trainer is as good as it gets under $500. No cardio machine offers you more for the money. You get an elliptical and a recumbent bike in one, as well as iFit training, watts power meter, 16 resistance levels and 16 built in workouts.
Sunny Magnetic Elliptical
The Sunny Magnetic gets good reviews from customers, as they appreciate the 15 levels of resistance, large foot pads, adjustable stride, LCD display and generous max user weight. It is compact in size and has transport wheels for easy storage.
Xterra FS 3.0
Another good choice with 20 resistance levels, a 22 lb. flywheel, backlit LCD display, heart rate monitoring and compact design. There's plenty of adjustability and extra features that most of the best ellipticals under 500 just don't have.
The Bottom Line
Any one of these ellipticals is a very solid choice in the under $500 category. If you have a different price range in mind you can take a look at our overall best ellipticals, which are broken down by type and by price.
Take a look at all of them and decide which one is right for you. They are different in their capabilities and features, but all will give you a very solid workout. And definitely take a look at the extended warranty just to cover yourself beyond the initial coverage period.