What's the best elliptical under $1000?
When it comes to finding the best elliptical under $1000, you want a machine that has the right combination of features and capabilities…everything you need to get a great workout and perhaps some extras to make your workout more enjoyable.
Fortunately, this price range gives you a wide selection to choose from, and there's a number of really good elliptical machines out there. We've broken down the very best ellipticals in all price ranges here, but continue reading below to find out more about what you can expect to find.

Best Ellipticals Under $1000 – What You'll Find
It's important to understand that when it comes to exercise equipment, you definitely get what you pay for. As such you'll be much better off with trainers at the top of this range than towards the bottom. That is to say, the closer you can come to the $1000 mark, the happier you'll likely be with your purchase.
The magic number seems to be about $500. Once you go above this price you start to see some real upgrades compared to sub-$500 models. Here is what you'll get that you typically won't at lower price points.
1. Longer Strides
This is an important feature, especially for taller users. Ellipticals under $500 tend to have short strides, around 18 inches, which can be uncomfortable for taller users. As you get closer to $1000 you'll find 19, 20 even 21 inch strides. It makes a world of difference.
2. Incline Capability
One of the great features of the best ellipticals under $1000 is incline capability, which adds a whole new dimension to your workout by targeting different muscle groups in your legs and increasing your calorie burn. Again, most sub $500 machines don't have incline.
3. Workout Diversity
The more expensive machines usually give you more built in workouts to choose from, from interval training to cardio to weight loss goals and more. This makes your workouts more effective, as well as more interesting, which will motivate you to get on the machine more often.
4. Better Biomechanics
The better elliptical trainers under $1000 will typically have a more bio-mechanically correct motion than cheaper machines. It's important to be in the correct position while working out to minimize impact and maximize your results.
5. Better Construction
This is probably the most obvious benefit, but it holds true that the more expensive the machine, the better the construction. Closer to $1000 you will get sturdier machines that can stand up to more wear and tear than cheaper elliptical trainers.
Our Expert's Top Choices Under $1000
So without further adieu, here are the best ellipticals under $1000 on the market today….
Sole E25
Sole has quickly become one of the most popular names in the low to mid price category, with great quality machines that are all about the workout. They don't have all of the bells and whistles of the NordicTrack ellipticals, rather they focus on design and functionality. The Sole E25, also just under $1000 on sale, is a great elliptical trainer. It has a 20″ stride, smooth resistance, pulse and wireless heart rate monitoring with chest strap included, power incline and a solid warranty.
Get more info and special sale pricing on the Sole E25 here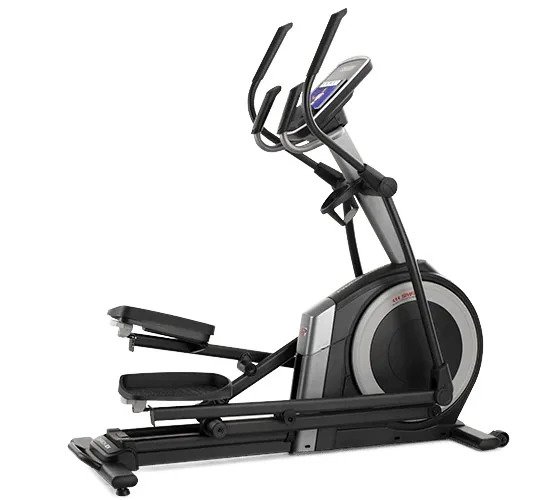 ProForm Carbon EX
ProForm owns the low to mid range elliptical market, and the Carbon EX, at just under $1000, has everything you need in a trainer. You get an adjustable stride up to 19″, 20 degrees of power incline, 20 resistance levels and tons of workouts through iFit. You also get an audio port and speakers for your music, and the company's unique iFit with on-demand and live training sessions, tracking capability and Google map integration to work out in any location worldwide. No other elliptical under $1000 offers as many features and capabilities as the Carbon EX.
Get more info and special sale pricing on the Carbon EX here
Bowflex Max Trainer M3
The Max Trainer is a bit different that a traditional elliptical…it's more of an elliptical/stepper in one. It's also around $999 when it's on sale, and it offers a great way to burn calories and lose extra weight in a shorter period of time. It's compact in size, low impact, has heart rate monitoring built in as well as the patented 14 minute interval workout. It's not for everyone, but if you want a quick/effective workout it's a good option.
Get more info and special sale pricing on the Bowflex Max Trainer M3 here
The Bottom Line
Those are three of the best ellipticals under $1000 that you'll find today. They are all at the top of the range, giving you more than you would get at lower price levels. But take a look at our Best Ellipticals list if you want something a little less expensive.